The German exit polls show the expected victory for the Christian Democrats and a stronger showing for the AfD, whom the BBC mistakenly calls far right, following the lead of the party's opponents.

They misuse the expression often. They use it for the Austrian Freedom Party and have done since the 1980s, even though the only thing right-wing about Freedom Party is opposing immigration. Which, along with scepticism towards the EU, is most of AfD's platform, though AfD has, inevitably, attracted some extremists and, regrettably, added
populist stuff about not allowing more mosques to be built and started saying very tactless things like
"We have the right to be proud of the accomplishments of German soldiers in two world wars".
Not wanting more mosques, though it might be deplorable, is not enough to make them far right. The BBC and the media should study Sir Oswald Mosley and the American Nazi Party to see what the extreme right is like.
Paul Gottfried, who's Jewish, said in the spring that just about everything AfD advocates would fit into a Republican national platform. I suppose not the stuff about mosques.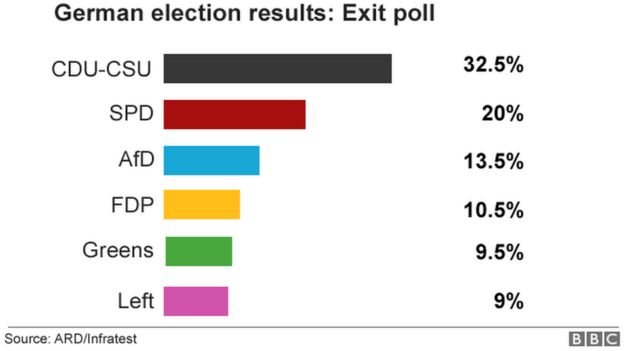 The genuinely liberal (free markets, mildly sceptical of the EU) FDP are in Parliament and are good news - the Greens are not good news at all but very worrying.

Merkel was brought up as a Lutheran Marxist Leninist, a privileged member of the nomenklatura. You see this in her internationalism. Like the East Germans who took over in early 1990, she is strongly Green herself. She is not a conservative, but conservatism scarcely exists outside Bavaria and East Germany, as an unintended by blow of de-Nazification. In fact AfD, which like Merkel has East German Lutheran roots, could be said to be the real Christian Democrats. They oppose single sex marriage, for example.


The extremists are not AfD, who resemble UKIP (Nigel Farage backed them), but the Greens and the ex-Communist Left party (also East German, of course).

The Christian Democrats and the Social Democrats (SPD), whose policies are interchangeable after Frau Merkel cleverly stole the SPD policies on migrants, nuclear energy and many other things, are not extreme but their migrants policy, I would argue, is.

An obscure German Green Party politician called Dr. Stefanie von Berg is extreme but she spoke for many Greens and many other Germans when she told the Hamburg parliament,
"Our society will change. Our society will change radically. In 20-30 years there will no longer be a German majority. We will live in a supercultural society. This is what we will have in the future. And I want to make it very clear, especially to right-wingers: This is a good thing!"
German politicians say they are very shocked that an AfD politician has said 'We shall hunt [or 'go after'] Merkel' - it sounds like they are going to have real British-style parliamentary politics for the first time. The kind of thing that horrifies the European Parliament when Nigel Farage speaks. Beatrix van Storch, one of the party's leaders, told the BBC,
"We'll start debates on migration, we'll start debates on Islam, we'll start debates on ever closer union."
A German analyst told the BBC that she thinks the AfD voters are mostly male in a 'more female, gayer, more diverse' Germany, implying that they are a lost cause.
Another German woman has just told the BBC that AfD are nostalgic for the old Germany "that has gone - get used to it". But no-one asked the Germans if they wanted it to go - and immigration is not finished, but only just beginning.
She suggests AfD talk instead about how to create more jobs.
The BBC is taking it very badly.